Ladies Monogrammed Sweater With Sleeve Monogram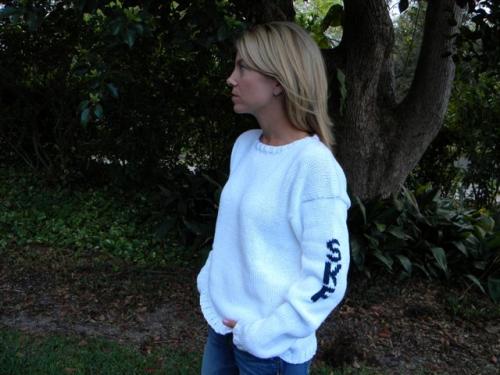 These are fantastic hand knit Initial Monogrammed Sweaters for Adults!
We also offer this sweater with a three letter monogram on the sleeve! I have the hot pink one with white letters! These are so cute and perfect with the Monogrammed Clogs!
Please allow 3-4 weeks for delivery.
Below are the measurements; please note that the sleeves are dropped slightly.
Ladies Measurements:
Small: chest 36", length 21", sleeve 20"
Medium: chest 38", length 22 1/2", sleeve 21"
Large: chest 42", length 24", sleeve 22"
X Large: chest 46", length 26 1/2", sleeve 23"

Please note: These are finished sizes. Sleeves are a drop shoulder style.
Love this color combination of white with the navy on the sleeve! This sweater is a medium on the smaller size for adult. The monogram is first, middle, last name. The letters are all the same size and in order of your name!
Price:

$126.00
In stock!
- Browse this brand
Our products are custom made to your specifications. This product ships up to 4 weeks after your order is placed.